Chua leads the Graduating Batch of 2021
11 August 2021
Chua leads the Graduating Batch of 2021
by Pilipino Ramos
Ms. Jennel B. Chua, a graduate of BSBA Marketing Marketing Management under the College of Accountancy, Management and Technology, was awarded the Bulacan Chamber of Commerce and Industry (BCCI) Outstanding Graduate during the 111th Commencement Exercises of Centro Escolar University last July 16, 2021.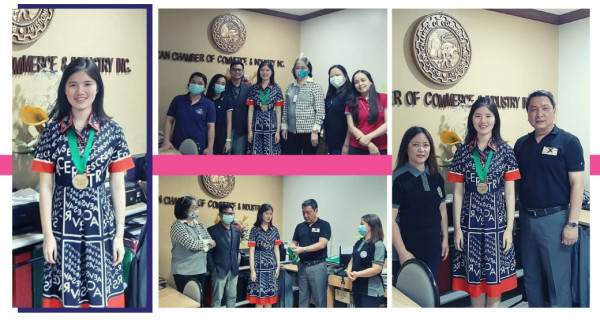 BCCI President Vic Mendoza personally awarded the medal to Ms. Chua last July 14, 2021, in recognition of her exemplary performance in academic and co-curricular activities. Ms. Chua graduated Summa Cum Laude and hailed as the Organization Model President (University-Wide) of CEU Malolos in the Academic Year 2020-2021.
She is also a recipient of the CEU Alumni Foundation, Inc. Gold Medal Award for Outstanding Academic Performance and The Philippine Association of Collegiate Schools of Business Gold Medal Award for Outstanding Performance and Leadership in Co-curricular and Extra Curricular Activities-Bronze Medal.
For more information about the College of Accountancy, Management and Technology please call (044)7916359 loc. 1202. You may also visit CEU's official website at www.ceu.edu.ph and follow CEU on Facebook at www.facebook.com/theCEUofficial and on Twitter at @CEUmanila, @CEU_makati05, and @CEUmalolos.